Reblogged from: The WesPress Blog. (Go to the original post…)
We are pleased to announce a new book by Julia Byl, Antiphonal Histories: Resonant Pasts in the Toba Batak Musical Present.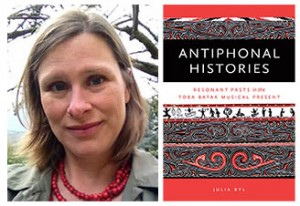 "Well-written, smart, and honest, Antiphonal Histories is an innovative juxtaposition of historiography, ethnography, musical analysis, and reflexive autobiography. There are also moments of poignant insight, brilliant induction, and hilarity." —Jeremy Wallach, author of Modern Noise, Fluid Genres: Popular Music in Indonesia, 1997–2001
Positioned on a major trade route, the Toba Batak people of Sumatra have long witnessed the ebb and flow of cultural influence from India, the Middle East, and the West. Living as ethnic and religious minorities within modern Indonesia, Tobas have recast this history of difference through interpretations meant to strengthen or efface the identities it has shaped. Antiphonal Histories examines Toba musical performance as a legacy of global history, and a vital expression of local experience. This intriguingly constructed ethnography searches the palm liquor stand and the sanctuary to show how Toba performance manifests its many histories through its "local music"—Lutheran brass band hymns, gong-chime music sacred to Shiva, and Jimmie Rodgers yodeling. Combining vivid narrative, wide-ranging historical research, and personal reflections, Antiphonal Histories traces the musical trajectories of the past to show us how the global is manifest in the performative moment.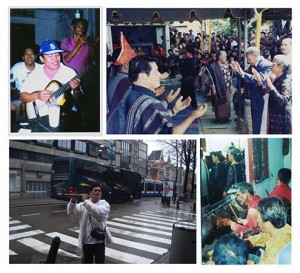 Clockwise from top left: a group of men playing at the lapo tuak; ceremonial dancing at a Toba adat ceremony; Martahan Sitohang playing the Toba suling during a performance residency in the Netherlands (photo: Hardoni Sitohang); and a gondang group.
For more details, click here.
Also available as an ebook—check with your favorite ebook retailer.