You've heard of the Wesleyan Film Mafia, right?  But what about the Wesleyan Sacred Harp Mafia?
Although nobody really knows the full extent of the network, Sacred Harp singers from Wesleyan seem to have spread themselves at least from Massachusetts to Georgia and from Connecticut to Ireland and France.  If you had been in Cork, Ireland, in early March you would have gotten a good sense of this agglomeration at the First Ireland Sacred Harp Convention.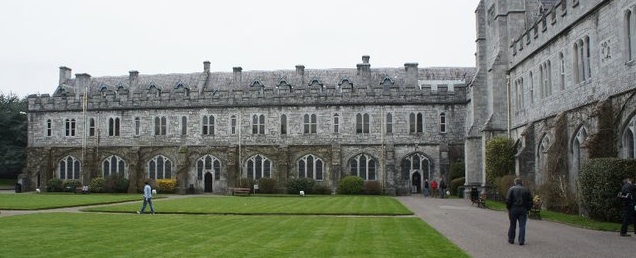 I arrived at the convention expecting to sing my voice hoarse and to meet lots of singers from Ireland and the U.K.  To my delight, what I found was  a meeting of not only Sacred Harp singers, but also of Wesleyanites!  The convention was held at University College Cork, and was organized by Professor Juniper Hill, a Wesleyan alumna.  Professor Hill invited Wesleyan's Neely Bruce to give a lecture and co-teach the singing school with Alabama singer David Ivey.  In addition, UCC's music department has a well-established exchange program with Wesleyan's music department, so there were several former and current exchange students on hand, along with Wesleyan alumni from near and far.
As Jesse Pearlman Karlsberg, a fellow Wesleyan alum and Sacred Harp singer, pointed out, the Sacred Harp convention is a "genius form," one that often produces "overwhelming" and "revelatory experiences."  We both agreed, however, that the Cork convention was especially powerful.  Everyone else felt the same, it seems; the Sacred Harp community has been talking about Ireland for weeks now.  To find out what made it so special and to see many more photos, take a look at Alice's blog: adventuresofaleece.wordpress.com.
The Wesleyan students who are lucky enough to participate in the exchange program with UCC next year will be able to witness the evolution of the Cork Sacred Harp community and attend another Ireland Sacred Harp Convention in March 2012, for it was unanimously decided at the end of the First that there must be a Second.
If a singing vacation in Ireland sounds tempting, make sure to keep your eyes open for details about next year's convention.  You can visit the Cork Sacred Harp singers' website here, or find out more about Sacred Harp singing here.