Reblogged from: Class of 2013. (Go to the original post…)
Dear Students,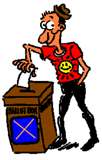 The Winter Elections and Winter Survey are now open at  http://wsa.wesleyan.edu/voting (correct address).  There are eight at-large seats to be filled. Voting will be open from now until 11:59pm December 7th. We strongly encourage you to vote, and have your voice represented.
Your feedback is very important for all of us students here at Wesleyan to make our university what we all want it to be. As always, your thoughts, complaints, comments, concerns, etc. are welcome at wsa@wesleyan.edu, or talk with any of your representatives.
Good luck with the rest of your semester, Grant Tanenbaum '15, Chloe Murtaugh '15, Mari Jarris '14, WSA Elections Committee