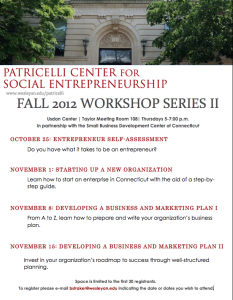 Part II of the Patricelli Center for Social Entrepreneurship's Fall Workshop Series starts up this Thursday, at 5:30PM in Usdan Room 108. Whether your interests lie with entrepreneurship, business, economics, social activism, or nonprofits, these workshops will offer you the practical tools that academic settings cannot always offer.
OCTOBER 25: ENTREPRENEUR SELF-ASSESSMENT
Do you have what it takes to be an entrepreneur?
NOVEMBER 1: STARTING UP A NEW ORGANIZATION
Learn how to start an enterprise in Connecticut with the aid of a step-by-step guide.
NOVEMBER 8: DEVELOPING A BUSINESS AND MARKETING PLAN – PART ONE
From A to Z, learn how to prepare and write your organization's business plan.
NOVEMBER 15: DEVELOPING A BUSINESS AND MARKETING PLAN – PART TWO
Invest in your organization's roadmap to success through well-structured planning.
Space is limited to the first 30 registrants. To register please e-mail
bstraker@wesleyan.edu indicating the date or dates you wish to attend.