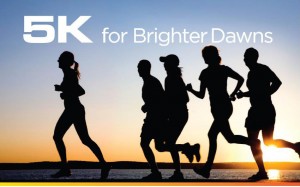 Every day in Bangladesh, millions of women must spend hours a day just fetching water, while most of us in the United States are lucky enough to have access to running water in our homes. So Brighter Dawns and Interfaith Justice League invite you to show your support for those who have to walk for water by running or walking in the 5K for Brighter Dawns, which will take place on Saturday, April 16th at 10:30 AM.
The event will start at Usdan University Center, 45 Wyllys Avenue, Wesleyan University, Middletown, CT. All ages and levels of fitness are welcome! Be sure to show up and register at 10:30 @ Usdan University Center. You can also pre-register online at http://brighterdawns.org/5k-run-sign-up/ or in Usdan on Monday 4/11-Wednesday 4/13. Registration is $10, or $8 if you pre-register at Usdan between Monday 4/11 and Wednesday 4/13. T-shirts will be available for purchase at the event, but supplies are limited, so be sure to arrive on time!
Stick around after the race for a free brunch, hosted by Interfaith Justice League in Allbritton 311!
Questions, comments, concerns? Email 5K@brighterdawns.org.