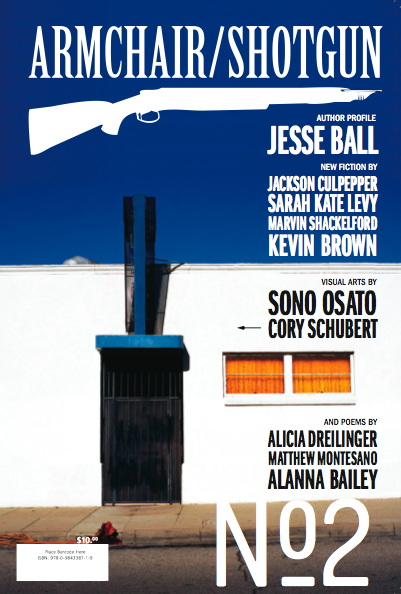 Armchair/Shotgun, a literary magazine co-founded by a trio of writers including alums John Cusick '07 and Evan Simko-Bednarski '07 and run by an editorial and business staff including alums Laura McMillan '05, Aaron Reuben '07, Adam Read-Brown '07, and W. Gavin Robb '07.
ARMCHAIR/SHOTGUN LITERARY MAGAZINE CELEBRATES SECOND ISSUE
What: Armchair/Shotgun No. 2 Release Party
Author readings
Whiskey and typewriters
When: Friday, March 18, 2011
7:30 p.m. to 10:30 p.m.
Where: Greenlight Bookstore
686 Fulton Street, Brooklyn
Who: Poets Alanna Bailey and Alicia Dreilinger
Fiction authors Nate House and Zach White
Editors and staff of Armchair/Shotgun
BROOKLYN, NY – Armchair/Shotgun, a Brooklyn-based literary magazine publishing new fiction, poetry, visual arts and author profiles, will celebrate the release of its second issue on Friday, March 18, at Greenlight Bookstore.
The release party will feature readings by Armchair/Shotgun authors Alanna Bailey, Alicia Dreilinger, Nate House and Zach White. Refreshments and typewriters will be on hand.
Armchair/Shotgun considers submissions anonymously to provide a venue for new and veteran authors alike. It is printed on paper and available in bookstores.
Armchair/Shotgun No. 2 features a profile by Kevin Dugan of novelist Jesse Ball, author of Samedi the Deafness and The Way Through Doors, an interview with Brooklyn-based artist Sono Osato, and original poems, stories, and artwork.
More information at armchairshotgun.com