Liz W. Garcia '99—a writer for the television series Cold Case, among other credits—and Joshua Harto wrote the script to the pilot episode (as well as the first few episodes) of TNT's Memphis Beat, a series following a Memphis cop who lives with his mother and moonlights as an Elvis impersonator. It stars Jason Lee and is produced by George Clooney and Grant Heslov.
Below, Liz shares the backstory on her latest creation: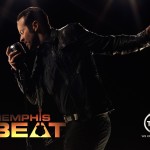 "Like all good ideas, this one started over drinks. My husband (Josh Harto) and I do our best thinking while eating and drinking, or driving around our neighborhood in LA. We started talking about writing a cop show—cops, crime, all good drama there—that did justice to the real life detectives I met while working on Cold Case. Detectives are charismatic, and complicated, and apart from busting perps their favorite activity is busting each other's chops. We thought we'd do something funny, character-based, with no elaborate technical lab junk involved, 'cause that stuff's boring and most cops don't work in well-funded enough precincts to use that stuff anyhow. They use what's free—brains and guns. We love writing about the South. My husband's family is from there, as is all his favorite music. We started talking about Memphis, which seemed a neglected place in the television landscape, especially given its rich and troubled history, and the incredible music made there.

"As these things go, after three long years of developing this project at TNT, we're finally making it… and shooting in New Orleans. We do our best to find Memphis down here, and make occasional B unit trips up to the city itself. Everyone tells us the experience we're having here is very much like the first few months with a newborn—very little sleep. Good grooming, balanced meals and exercise have gone out the window. But the moments of grace—where our actors surprise us, or we find ourselves shooting in some stunning mosquito-y location, or making an important decision we're totally unqualified to make but people trust us anyhow—those are beautiful and worth the blood, sweat, and tears. Please watch: June 22nd, 10 pm, on TNT."
To catch a sneak peak of Memphis Beat, go to www.tntdrama.com/video/?oid=60513.